So I've now had my last 1L class. As of 11:50am (EST) on Friday, April 24th, 2015 – I have finished all my class meetings.
[Also worth noting, there were snow flurries in the morning, yes, on April 24th]
Of course in law school this sadly doesn't mean a whole lot. When your entire grade comes down to an exam, the exam period actually ends up mattering more than all those classes you crawled out of bed and went out into a blizzard (literally) for.
But, I can't complain about all my classes. For you see, LRW is finally done.
Now that its out of the way, I'll explain how the grade breaks down and how my oral argument turned out.
The written Brief is 85% of your LRW grade. The
oral
argument
is 15%. Since you "share" a grade with your partner, it basically looks like this for the
oral
argument
portion:
10% is your argument score. Each judge gives each person on the team a grade of 0 – 10. So 3 scores per person, 6 per team. These six scores are then averaged into one score, which is how much of a % out of the 10% each member gets. So if one person rocks it out of the park and gets 10-10-10, but their partner, I dunno, dies and gets 0-0-0 the final score would be 5% for the argument points. Then, there is the extra 5% reserved for whoever wins. So you could argue really really well, but if you lose, you're automatically docked 5%. The problem in this system, which I suppose mimics the real system, is that "quality" of counsel and judges will vary wildly. One team's 9/10 winning argument, might be another teams 5/10 losing argument, all depending on the judge.
Oh, and by the way, these are real judges. Yes, actual bona fide judges.
I was on the side of the Appellee (Defendant) which means that we speak after the Appellant's (Plaintiff) side speaks. The downside is that they get a chance for rebuttal at the very end. Within my team, I was the first speaker, which is the most difficult because the judges pretty much come out of the gate trying to destroy you. Generally speaking, in real courts, the first oralist is the most experienced and skilled attorney, I was neither, but I was first.
Interestingly enough, in the beginning of our argument the opposing counsel waived their rebuttal time, which meant that they had five extra minutes to argue, but no chance to respond to us. I thought it was an interesting tactic. The first person on the other side got hammered pretty hard, but then the second person went rockstar. By the time it was turned over to me and I got my introduction:
"May it please the court, my name is Taco and I, along with my co-counsel Mr. Partner represent the Appellee Mr. Bojangles. I will be arguing the contractual dissafirmance issue and Mr. Partner will be arguing the employee compensation issue. I ask to reserve thirteen minutes for myself and twelve minutes for my co-counsel."
..I was pretty much already getting interrupted by the judges. The "Chief" Judge was especially hard on me, and I had a really hard time getting them to let me lay out my argument, but eventually I did. My partner then was able to do his spiel, though he got questioned a little less aggressively than anyone else had, I think by that point the judges might have been getting bored or something. Anyway, long story made short, we ended up winning the argument (Yay!) by a little less than 2 points and I actually won the most points overall. I still don't know what my final grade is, but at least I know we got the extra 5% added onto our score.
The fun thing, this entire semester (Brief and Oral Argument) we were trying to prevent a little girl who got her fingers chopped off from getting any money from a big corporation, we shut her down like a little biotch. Being a sociopath is awesome. (The case isn't real, before you flip shit)
While the Brief had been handed in and the oral argument completed, I still had one more class of LRW. It was largely a blow-off class, and they (The LRW teaching people) did have a party for us at Tasty Burger (which I didn't attend because it was cold and raining and I'd rather go home and eat not-greasy food and drink better beer), but it was still a class that needed to be sat through. And so I did. Which means that LRW no longer exists to me. I am now completely, totally, done with 1 out of my 5 classes. But don't worry, I'm sure I'll find ways to complain about LRW retroactively.
So that leaves one paper and three exams. Then 1L is over. The Harvard Law Review competition begins right afterwards, but I'm not even sure if I am going to do that. The bad news is, its going to take all the flipping way until May 14th before I'm done with exams. Oi.
But for now, I will bask in the warm glow of being done with 1L classes and also the sun (I'll pretend it didn't snow a little bit earlier – made easier by the fact I was still asleep when it did flurry).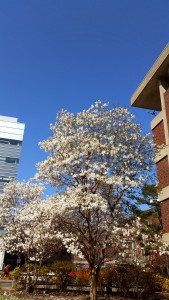 So, aside from finishing up classes what have I been up too? Well, quite a bit, as usual. I was kept pretty busy finishing up SPO and Journal stuff, in addition to a bunch of other miscellaneous things. Such as meeting more guests at the law school.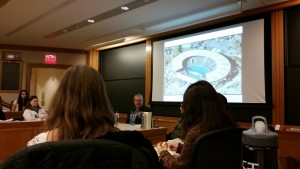 That is a bad photo of David Kirby, author of Death at Seaworld which at least partially inspired the Blackfish documentary. It was one of the more interesting presentations I've seen thus far. I actually really enjoyed his perspective, which was very non-emotional and lacked the extremism of most animal-rights people. If you need anymore convincing that Seaworld is a horrible place for both the creatures and their human caretakers, then this is the guy to talk to.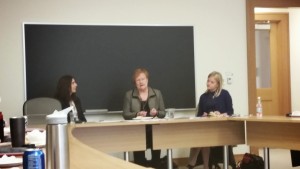 That is another bad photo, this time of the former president of Finland, Tarja Halonen. Her talk was about gender equality and to a lesser extent environmentalism. Finland has done quite well when it comes to narrowing the gender gap, far far more so than the United States. I was really expecting a fire-harpy feminist, but she actually turned out to be really moderate and acknowledged that men and women are different and always will be different, but that doesn't mean that society can't allow them equal access to things. Since she was President of Finland for 12 years (2000 – 2012), I'm guessing she did something right.
I've also been spending more time outside of the law school (literally). For starters, things have been getting warmer (even if slowly) and thus I've been out and about more. Its such a nice time of year, when it isn't reverting to cold and raining that is.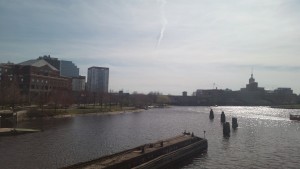 Photo taken from the commuter rail as SB and I headed to Lowell, MA – more on that in a moment

And even with those minor "cold day" set backs, Spring seems to be fighting the good fight and slowly creeping back into the barren wasteland that Boston had become.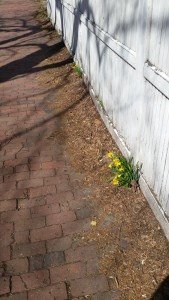 The squirrels have been out playing behind our apartment as well! (Not to mention the billions near the law school)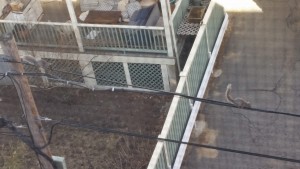 The fellow below was quite angry and "barking" at something that only he could see.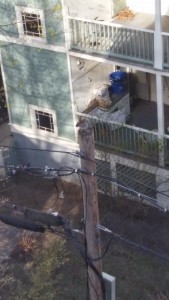 Divest Harvard (an organization whose purpose is to get Harvard to divest from fossil fuels) also took note of the warmer weather and actually staged a week-long protest at various locations around Harvard. The primary location was Massachusetts Hall, which houses the University President (Drew Faust).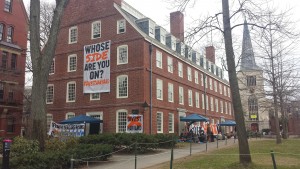 They've protested at several points in the past, but I think this was the most sustained event. They camped out 24/7, which is why the group seems so small in the photo above. During larger events as many as 150 people were involved, including various faculty members. Divest's goal has garnered majority support within the student body (though the administration refuses to divest), and even a lot of faculty and alumni (including big ones such as Natalie Portman) have openly backed the project. I wasn't actively involved in any of the protests, though I did attend their teach-ins.
In a more tasty spirit of the warmer weather, Ben & Jerry's celebrated their annual Free Cone Day on Tuesday, April 14th. SB and I actually met up after my late class to try to attend, she had been wanting to try their new flavor – The Tonight Dough Staring Jimmy Fallon, and you can't beat free. However, when I first got down to Ben & Jerry's I noticed this: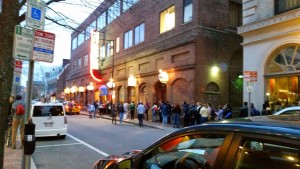 Yeap, that is a line outside of the building and up the street. Its also worth noting that that door doesn't lead straight into Ben & Jerry's, Ben & Jerry's is actually on the other side of the building. So yeah, I decided I wasn't waiting around and by the time SB arrived we headed off to different pastures. Thanks to our handy-dandy smartphones (not iPhones) we found out that a J.P. Licks was also nearby.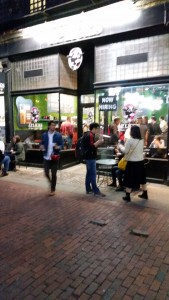 So, rather than wait in line for 45 minutes we decided to pay and wait in a line for 5 minutes. J.P. Licks was a little busy, but actually less than I was expecting. I think a lot of people were doing exactly what we did – head for Ben & Jerry's –> see the line –> feck that –> J.P. Licks.
Its been long enough now that I don't really remember exactly what SB got, though I'm fairly sure I got the Oatmeal Cookie Frozen Yogurt. Whatever they were, they were really good and satisfied our desire for ice cream without the 45 minute wait. We ended up walking up to the Yard and enjoying our treats.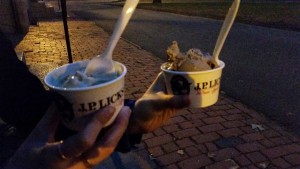 Afterwards, it was back home for some amazing bratwursts and beer!
If you are wondering why all the celebrating (between the ice cream, the bratwurst, and the beer) it was because I had just finished my last major pre-exam assignment. In fact I had came off of two straight, very long days which included my oral argument and another presentation in my Rhetoric course. In fact, that was what I was saving the 120 Minute IPA for (talked about extensively here). I kind of figured that since Dogfish Head made such good beers, they surely made good bratwurst, well, at no surprise to anyone, the bratwursts were awesome. These weren't just any bratwurst, nor were just Dogfish Head bratwursts, these were Greek Feta bratwurst. Which contained feta cheese, mint, spinach, cumin, lemon and a dose of Midas Touch. If you are worried about the mint, shhh.
It was an awesome dinner, even if SB didn't help me with the 120 as much as I hoped she would and I ended up buzzed (yes from one beer).
Another pretty cool thing that happened is that my Aunt, who I should probably name at this point – we'll call her "Aunt Train" since I have to take a train to see her, moved to nearby(ish) Lowell, MA. She actually works in Boston but commutes in via rail (see this train thing works). Anyways, SB and I had told her we would help her move in. Well, not technically move in, as she was smart and didn't do what we did, but rather help her un-box stuff and move it around once it was already in the apartment.
So we set off on our first ever commuter rail trip, on what was probably one of the nicest days of the year so far. The commuter rail portion is about 43 minutes (according to the MBTA) but we also have to get to the commuter rail station in the first place, so its a decent little jaunt up to Lowell, and then from there just a short drive (or moderate walk) to Aunt Train's place. And boy what a place it was!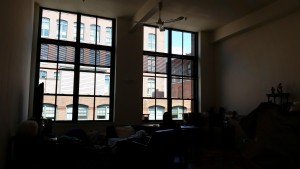 The apartment itself was quite large, but the best feature (aside from the fact that there was an in-unit washer and dryer, which on the East Coast basically means a "luxury" unit) was the huge windows! They let in so much light, it was amazing. As was what was just outside.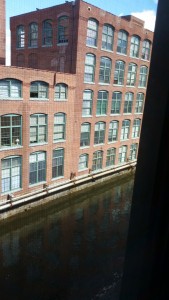 Yep, the loft was right on a canal, so with the windows open you could hear running water! It was such a cool place, all the apartments in that area where made from old converted factories. I love reusing space rather than tearing stuff down. I think SB and I might have got a little bit of a loft fever.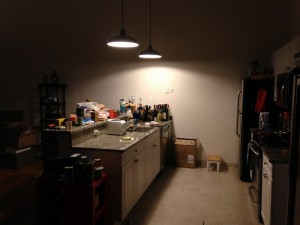 Intermittent drinks were mixed in throughout the day – ok perhaps not super intermittent – but I had Landshark for the first time in years!
After a long day of helping unbox and put things away we headed out to get some dinner. We ended up walking to a nearby pub for dinner (On the way I got hit on by some Drag Queens – Neither SB or Aunt Train received any such attention, so +1 points to team Taco). We went to the Old Court Irish Pub, which, much to Aunt Train's dismay, had no Harp. I went with some Guinness and steak tips, it was a yummy dinner after a busy day!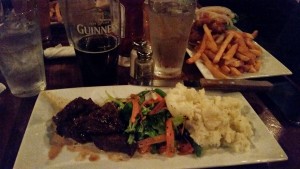 Afterwards we headed back and unpacked a bit more of the kitchen before watching a movie called The Hundred-Foot Journey, which I had never heard of, but actually turned out to be pretty good and is worth watching (though prepare to get hungry, meh gehd). After that it was off to sleepy-time (Aunt Train let us sleep on her ultra-fancy Serta memory-foam mattress). The next morning we had a nice breakfast (with Kahlua in the coffee), did an itsy bit of unpacking and moving stuff, and before we knew it was was time for us to catch the train back home.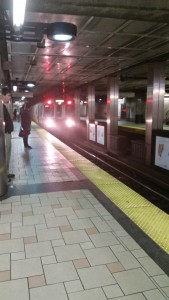 That isn't the commuter rail, its the subway, but its a train so it conveys the voyage back to our apartment just fine.
Keeping up with the "Spring" theme, I also tried out a new-to-me shandy, by none other than Narragansett.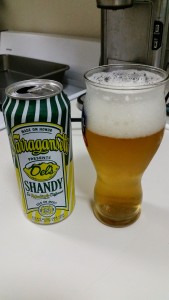 1. Narragansett Del's Shandy – Narragansett Brewing Co.
Narragansett has thus far, been a pretty middle of the road beer for me. Though, as Meem discovered, Dr. Seuss designed some stuff for them, which gets them bonus points. Anyways, SB and I are big shandy fans, so I was happy to try a new one. Narragansett's shandy is made with "Del's Lemonade" which has a storied history and is hugely popular in these parts (especially Rhode Island, home of Narragansett). So, I wasn't sure if this was just a marketing thing, or if it would actually be good. Turns out, it wasn't half bad. It was the least sweet pre-made shandy I think I've ever had, which isn't a bad thing as I think it actually increased the drinkability. Apparently they changed the recipe this year in response to people saying it used to be way too sweet. So some people think they overcompensated and made it not sweet enough. I disagree, for me a shandy is less about the sweet and more about the citrus-bite that accompanies it. I'd say this compares nicely to Leinenkugel's Summer Shandy (which is also a good shandy). If you happen to see this, and I doubt you will unless you are out in these parts, its worth a try and its also not too expensive.
Returning to the law school, things haven't been all business. April 20th was "Patriot's Day" here in Boston, which celebrates the Battles of Lexington and Concord (Which, as an FYI is pronounced "Konkerd" – not "Kon-cord"). Pretty much every school in the Boston area either gets the 20th off, or the 20th and 21st, or the whole week. Pretty much every school that is except Harvard. As a way of atoning for the fact that while we were in classes, other schools such as MIT were able to go watch the Boston Marathon (which is run on Patriot's Day), HLS provided us with some Boston-themed treats and a live stream of the marathon (to remind us that we weren't there).
Food included Boston Clam Chowder (Duh), Hotdogs, some fried thing that was consumed before I got a good look at it (I had a SPO meeting), Toll House chocolate chip cookies (Click the name and learn something), Iced Tea, lemonade, and probably some other stuff I am forgetting. Since my SPO fed me lunch from Al's Cafe I didn't end up eating any of the Patriot's Day stuff, though I did drink like 5 classes of iced tea. So while not having classes would have been better, this was a nice gesture. The only downside is that this was also the last day of the second "Admitted Students Weekend" so there were a bunch of outsiders taking up my space.
The law school also celebrated Earth Day, with a small outdoor sustainability festival.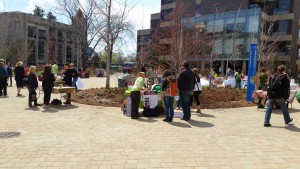 They had some games, some free stuff, and some free food (I tried out some Strawberry-Kiwi "Spa Water"). Even b.Good was on campus offering up free smoothies.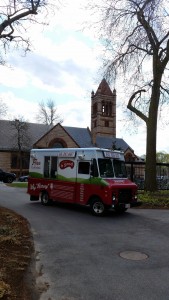 Sadly, I had a meeting and by the time I got out there they were packing up so I didn't' get to spin their prize wheel or get a free smoothie. First world problems.
Speaking of problems, I'm actually procrastinating on a paper for my Rhetoric course as I write this post. Though to be fair I've been writing this post on-and-off for the past four days. My Rhetoric class ended on a high note though, first off they fed us.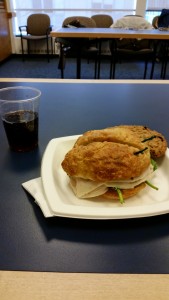 It was from the Milk Street Cafe, and was very tasty. But more importantly, one of the presentations my classmate gave was about how to do origami, and we ended up making frogs that can hop!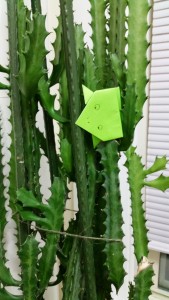 I named mine "Frogulous Caesar" and he now lives in various places around the apartment, including the occasional perch on Little Friend (seen above). So if you want to learn origami, just pay 60,000$ for a year of Harvard Law School tuition and you can make a paper frog too!
Since all my classes were wrapping up it also meant that it was about time for my 1L Section to part ways. So we decided to have an end-of the year party. I'll talk about that in an upcoming post, but what I need to share is that it ultimately involved me walking about 11 miles in one day to get to all the places I needed to be. I ended up up in Porter Square to meet SB for our Friday night dinner. It was a "Free Ride" day for the MBTA (an "apology" for how much they sucked this winter) but I ended up walking all the way there.
SB had decided on a place called Christopher's which was conveniently located very close to the subway station. SB got there just a little bit before me, and after a short wait we were able to get a table.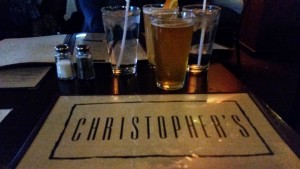 I actually wasn't that hungry since I had just ate dinner at my section party (including dessert) so I went with a caesar salad while SB went with their TOAD Burgah' (all natural beef burger with melted cheddar, pickles, crispy onions, chopped lettuce & special TOAD sauce, on an onion roll – the TOAD sauce was a mix of BBQ, chipotle, and mayonnaise I think – it was pretty good).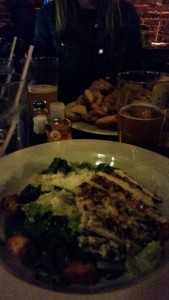 More important than the food though, where the two beers we had. SB went with an Allagash White (one of her new standbys) while I tried something new.
2. Jack D'Or (Saison) – Pretty Things Beer & Ale Project
In addition to being something I hadn't had before, I thought the name of the brewery was kind of cool – and its based right in Somerville! Plus, I am still exploring and trying to figure out what a saison actually is. It was a really good beer! The Jack D'Or I mean, I have no idea about saisons in general. This was a very balanced, yet complex beer. Probably one of the better "on-a-whim" beers I've had in a bit. Lots of malts where used in this beer, and its not hard to tell them apart, which is something that is tricky to accomplish as a brewer. I'll definitely look for more Pretty Things brews in the future (they are only about a five year old brewery).
On the whole, Christopher's was just "ok" to me. It was a little pricey, it was really loud inside, and its a bit out of the way for us. That said, after a long day (and a longer walk) I wasn't feeling the best, and I had already eaten, so the cards were kind of stacked against the place. I'd try it again, but the loudness was a bit of a turn-off.
They do get bonus points for having Grey Poupon though (which gave me wicked heartburn, but I digress).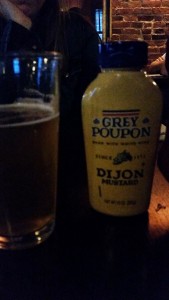 We took the subway back down to Harvard Square (I was done with the long walks for the day, thank you very much – plus it was free). Neither of us had been to the Porter Square stop before.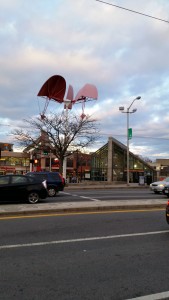 It had a big, weird windmill-statute-art-installation-thing next to it. But what was more interesting was just how deep the station was.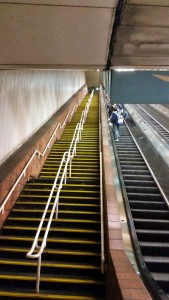 That is one of three stairways to get down. The first one isn't that long, and the third one is fairly short, but the middle one, holy crap. I ran down the stairs and made myself dizzy and nauseous. Another interesting thing about the station was that they had little glove "statues" all over the place.
It's apparently an art installation called "Glove Cycle" and the history behind it was a little more interesting than I figured it would be. It was actually part of the larger "Arts on the Line" project the MBTA did.
On our way home we walked through Harvard Yard, and there was another sort of public art installation going on (from artist Krzysztof Wodiczko).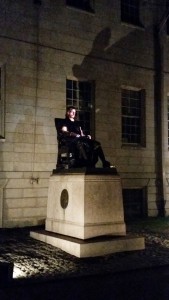 People were being projected onto the John Harvard statute, and were telling various stories. We didn't hang around for long, but most of the stories seemed to have themes ranging from hope and fear to questions of identity and feelings of vulnerability. It was kind of cool, but kind of eerie at the same time – especially the faces which basically looked like they were replacing the face on the statute, and were talking. I think it was part of the Yard Fest, which had ended earlier that evening.
After we got home, we pretty much just chilled for the rest of the evening, which has actually been the theme of this entire weekend (since exams start next week). Fortunately some Stump Town coffee (which we first had in Seattle) was on sale at Whole Foods yesterday, so we shared a bottle of that to get us energized enough to procrastinate 😛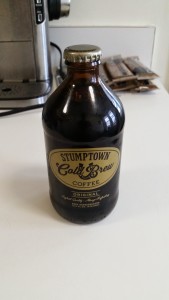 Anyways, I am going to go ahead and wrap this post up. It feels kind of weird that I worked on it over the course of several days. Plus, I really should try to at least work on that paper, or move on to another form of procrastination, or something. I'm also currently waitlisted for one of the classes I really wanted to get into next semster, but they decreased the class size by 50 freaking people and messed my plan up, so I tend to check the waitlist page a lot to see if I've moved up the list at all. So that gives me something else to waste time on as well! 🙂
Until next time,
-Taco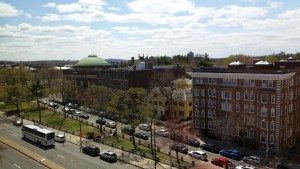 A nice Spring-time photo from the fifth floor of Wasserstein Hall.