SB and I normally don't go out to eat on Saturdays, primarily for budgetary reasons. Since we had just had our Friday night out, its normally (somewhat) easy to resist temptation on Saturday. Not so for today. We've been doing our shopping on Saturdays. We do this for a couple of reasons. First, our primary grocery store (Whole Foods) is crazy busy on Sundays. Second, we are busy studying on Sundays and don't like having to mess with it. We also have no time during the week, so Saturday works best.
Anyways, we walk to Whole Foods, its about a 13-15 minute walk. On the way to Whole Foods is a place called The Biscuit (not to be confused with The Biscuit Bitch, a place we ate at in Seattle). SB had mentioned wanting to go there and I wanted to go as well. We were going to go on Friday, but I found out they are only open until 5pm which kind of killed that idea. Its not much of a logical leap that we put two and two together and decided to go to The Biscuit for lunch on our way to Whole Foods.
Its right on the corner of a fairly busy intersection, but its not far from our apartment at all. Upon entering, it became obvious that this was like most coffee/cafe places, crowded and cramped. On the same tone, this also normally means that the coffee and food are good, which they were. Maybe something about being a sardine and feeling like a hipster makes the food taste better, I dunno. I went with a 1/2 Helsinki Sandwich (Smoked salmon, cream cheese, pickled red onion, mesclun greens on potato dill bread), SB went with The Great Eggs-Scaper (Hard-boiled egg, red onion, celery, capers, mayo, Hebrew National mustard, red wine vinegar & greens on whole wheat), we both got coffee (her the light roast, I the dark) and then most importantly we decided to split one of their Lemon Scones.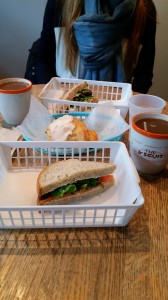 While the coffee and sandwiches were good, the scone was better. It was a blend between a traditional scone and a huge buttermilk biscuit. The icing was lemon, but it also had lemon zest within the scone. In other words, amazing. As you can see from the picture we managed to find a table to eat at, but we were right next to (and by right next to I mean like 1ft away) from a woman teaching someone French who was speaking it extraordinary loudly. That got old quickly. However, crowded interior aside, it was a good food stop.
We then headed on down to Whole Foods for our shopping. Because we had also had a Peapod delivery this week, it wasn't a big trip (we get big Peapod deliveries about once every three weeks). Since we only had one bag of groceries to carry, we finally decided to stop at a local butcher that we walk by on the way to the store, Savenor's. They had recently re-opened after a remodeling. Each time we had walked by since they opened they had been pretty busy and we were normally laden with grocery bags. However since we only had one this time we went in. It was AMAZING. They had a really good selection of meat, from Japanese Beef (at 100$ a pound) to Quail Eggs, to Duck, to Chorizo, to all the ordinary meats and cuts you would expect from a butcher. They also had some drinks, glazes, sauces, etc. I quickly found bottled (glass) Coke and got one of those. Then we ended up getting some Chicken Chorizo (SB loves Chorizo) as neither of us had ever had any. All the meat in the store was local, they even had the farms listed that they got their meat from. They were all from New England. As I mentioned, the quality of the meat looked really, really good. Too bad we are too poor for most of it. However, come Thanksgiving we know where we are going.
An interesting side note, one of the owner's was talking to SB and apparently one of the farmers they buy from was visiting the store. She was wearing a kilt (the farmer) it was kind of funny/cool.
Anyways, I just wanted to share our Saturday trip. Now I'm going to go be fat and play video games.
Until next time,
-Taco