So last time I said I wasn't' going to write a post. I guess I lied, since I'm writing a post. However I'm 3/4 of the way through exams and I wanted a little break from studying contracts. The funny thing is, I'm having problems accessing my blog again. And when I say "problems" I mean that I can't access it at all. Now here is the interesting thing, you can (I mean, obviously, you are reading this). So its some sort of backbone issue. Which means its not something easily fixed (or even fixable). In other words, its impossible for me to do anything at all with my blog when its "down" like this. Notice I said essentially. In order to get around a pathway problem, I just changed my path. Right now, dear friends, I am writing this post from Russia. Not literally, though the internet thinks I am. This has allowed me to bypass whatever the problem was in my normal route. The downside is that sending everything to Russia via some low-end proxy is not reliable and its slow. But, its what is allowing me to write this post at the moment so I won't complain. However, I'm constantly losing my connection so if this post gets erased as I write it I will rage with the fury of 1000 dying stars.
Anyways, like I mentioned last time, posts really are not going to be written in advance from here on out, at least not regularly. So I'll just share a few things that have been happening lately.
First, we've have no real big snow storm yet. We've had two big Nor'easters which are freaking horrible, then one lesser Nor'easter which wasn't that bad. There have been a few times that the snow has been forecast as coming, but its never amounted to a whole awful lot. Valentino waits patiently for it.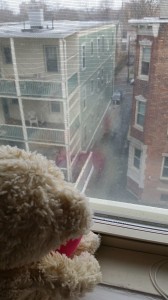 Harvard has an interesting way of dealing with the ice when it comes to all their grand ole' buildings with huge staircases. They just build a little platform of stairs, on the stairs, then rope off the rest of it.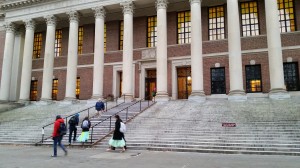 To be fair, I've only really seen that on one building (Widener Library, seen above) but then again I'm not really much of a campus explorer these days, there just isn't enough time. This is primarily (read: exclusively) because of exams. But I'm not going to talk about them now, I'll save them for my law school post (assuming I can actually write it). However, the plus side is that since my term and exams are longer than SB's (she is done, lucky devil) we've got to spend a bit more time together. Before she was finished we even did some studying together.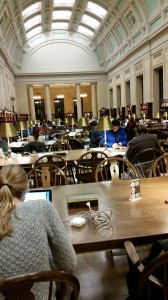 That is one room in Widener, I don't think either of us had been in that part of that library before. Harvard has enough libraries to build a city and we normally go to the law school library (Langdell). However, once the exam period begins HLS locks out the non-law people from the library. Its a good move, I 100% support it, however it does keep SB out as well, even with her fancy Harvard affiliate (spouse) library card.
Second, we've continued our Friday night outs as usual, in spite of all the end of semester stress. This past Friday we headed back again to Grendel's Den. Which is our third time now. We actually wanted to go try out the Queen's Head Pub again, but when we got there it was closed for a private event – which they were kind enough to not post on their website or Facebook. So that place hasn't had a super strong start for us, especially since we waited an hour for it to open, only to find it was closed to us, which made us later for everywhere else. Anyways, we went with Grendel and it was tasty as usual.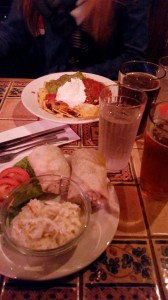 More interesting than the food, was what happened when we got outside. As soon as we opening the door I heard chanting, and once we got up top (Grendel's Den is actually in a basement) I could hear they were shouting "Hands Up! Don't Shoot" – so it was a Brown/Garner protest. (The first shot is hard to make out due to lighting, but you can't blame me this time, these were SBs 😛 )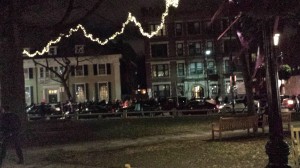 There had actually been several of these, both in Cambridge and Boston, but this was our first time running into one. There were also a few at the law school (including an ongoing one where they've covered portraits of professors with the alleged last words of people killed by police), but none this size.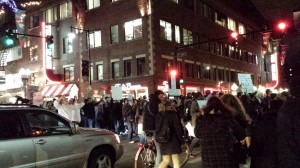 They had actually started gathering on campus when we were on our way to Grendel's Den, so we had seen the crowd during the portion of the evening when they were giving speeches, prior to the march. However, I wasn't really sure where they were going to be, turns out it was right in front of us. They actually were walking against traffic and quite a few cars got stuck in the middle of the flow of 1000s of people.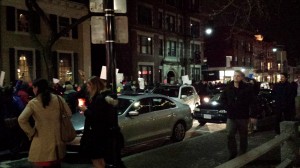 We were right up at one of the intersection and they extended a good distance in both directions. There were cops on the sides and backs of the crowd and everything was pretty peaceful, aside from the people who were backed up in there cars so far they couldn't see what was happening. The distant horns struck me as funny, talk about a fruitless waste of car battery.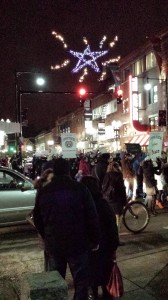 We also took a brief video as they were passing by: [I'm not sure if the video is even working, I might deal with it when I can reliably access my blog, right now its just impossible]
After the protesters had moved down the street we started heading back home. Since we were in the area, we decided to try the newly opened location of Mike's Pastry. Mike's is apparently one of those "Boston Institutions" that every needs to try. So this means that some people absolutely hate it, as overpriced, over-hyped garbage that is vastly inferior to the "true" hole-in-the-wall bakeries (Which Mike's once was, of course). On the flip side, you have those who love and say its the best and still is a hole-in-the-wall bakery. I don't know enough about it to take sides, but I like pastries, way too much. However, up until very recently they only had one location which was down in Boston proper and thus too far for us to travel simply for a pastry. But, fate intervened and they opened a new location fairly close to us and it just so happened to be directly in our path home.
So: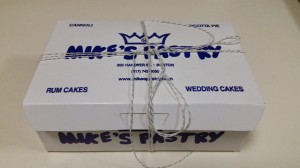 We got some, of course. Now Mike's is famous in and of itself, but they are particularly known for their cannolis which are are apparently a big Boston desert. In fact we thought that that was all they had. But nope, we were wrong. They have all sorts of goodies AND all sorts of cannolis and I do mean all sorts, I had never seen a collection of cannolis so large. The variety for the other baked goods was pretty good as well. Prices were not so good, but that is part of living in an East Coast city. However, the stuff you got was BIG, so you didn't go sugar-tooth hungry after spending your cash.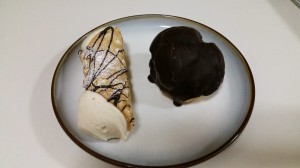 On the left is the "Peanut Butter Cannoli" which was amazing but so insanely rich that SB and I combined didn't finish it in one setting (and if you know me, that is saying something). On the right is a "Lobster Tail Creme Puff." I have no idea where the name comes from, but it was good. It was also rich, but no where near as rich as the cannoli. Both of them lasted more than one sitting.
Of course its also getting close to the holidays. And while exams form a nearly impenetrable barrier that fogs my holiday spirit, we did go ahead and put up some decorations. Like usual, we stuck to my rigid "12 days of Christmas" decoration rule, in fact we put them up on day 11 due to my exam-schedule. Little Friend is stylin' as usual.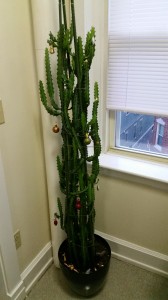 As a remainder here is what he looked like five years ago, on his first Christmas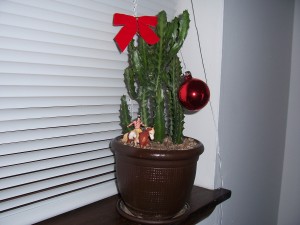 (Keep in mind he was heavily pruned before our move to Boston)
We also put up our tree that FIL and MIL got us many moons ago, as well as a few other decorations we've accumulated over the years.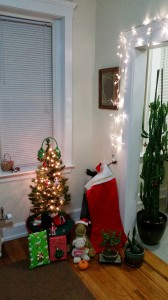 From Left to Right: Christmas Tree, Tristen, Valentino, Thomas (Pumpkin), Bonsai Buddy Jr., Three Amigos (Nacho, Quixote, Pancho), Little Friend
SB even convinced me to put up our little strand of lights. I am not a lights person, but I'm a scrooge. They do look nice once they are up, but I don't like putting forth a lot of effort for temporary decorations.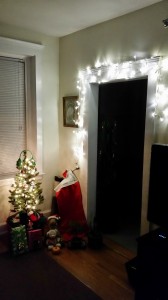 And that's about all I have to share for now. I need to get back to studying and I'm sure Putin is watching me type this post.
Since I likely won't mention anything about it in my next post, which I will hopefully be able to write:
Merry Christmas/Hanukkah/Ramadan/Kwanzaa/Football Sunday/Decemberween/COLLEGE_NAME and a Happy New Year!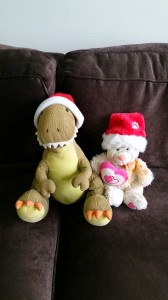 Until next time,
-Taco
P.S. – Due to my ultra slow Russian proxy everything took like 5 years to upload, so appreciate the media 😛