At long last, after nearly two months, it looks like the snow situation is starting to improve. This is good for us humans, not so good for snowmankind.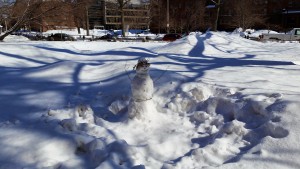 Of course, as you can see, its not like the snow is gone. In fact I can pretty much guarantee we still have more snow than you do. However, the sidewalks have (mostly) transformed back into sidewalks instead of alpine paths or long sheets of ice. The snow mountains are now closer to snow hills, at least in some areas. Point being, we've finally got to the point where snow removing and snow melting has passed up snow falling, its nice. I don't mind snow, but I've had more than enough for one year. Over 100″ of snow is plenty, thanks Gaia.
This week was the worst of law school thus far. I was on campus until after 10pm more than once and free time didn't exist. Heck, I was even doing school stuff on a Friday night (Cardinal Sin) and most of my Saturday afternoon. There is just so much going on, that there are not enough hours in the day. I mean that literally, there is so much I simply can't do all of it. Which is weird, and oddly unsettling. I'm the type of person, that, for better or worse, I get shit done. So, not getting stuff done does not bode well for me. I sincerely don't like it. But, when you just physically don't have the time, there isn't a whole lot you can do about it. It also doesn't help that they only gave us one week for our LRW draft and my partner is a neurotic sperglord. But, (for a change) I won't rage about LRW anymore in this post.
The plus side of the long week is that being on campus late allowed me to explore some of the deeper areas of the tunnels.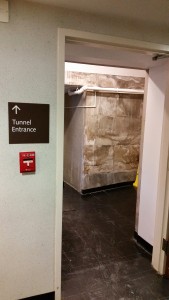 One does not speak of the tunnels.
A week of this kind of longevity deserved a good Friday night dinner. SB have procured a Groupon for Boston Burger Company, which conveniently had a location only about a 10-15 minute walk from here. Since it was actually in double digit temperatures, the walk wasn't that bad. The Boston Burger Company (BBC) is normally one of those places that we can't afford (so like 99% of the city) but the Groupon brought it down into the "still over our price range, but it was a long week" range. BBC has been featured in several places, from Rachel Ray to Diners, Drive-Ins, and Dives. Their specialty is obviously burgers. So me being the intelligent person I am, took a photo of the side of the menu that didn't have the list of a bajillion burgers.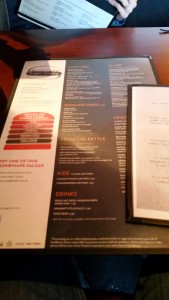 Like I said, it was a long week. If you really want to see all the burgers, they list them on their website. SB went with the aptly named "Mac Attack" burger which is contains (in addition to a burger) homemade four cheese macaroni & cheese and bacon (and was featured on Diners, Drive-Ins, and Dives.). It was very good.  I mean, how can something like that not be good? I went with the Bahama Mama, which is a conch burger with mango salsa and jerk mayo. It was also good. I got it to relive the Bahamas. I have to say, the freshly caught conch of the Bahamas was obviously better than this conch burger, but that isn't to say the burger was bad, I just had an impossibly high standard. That said, I enjoyed it and am glad I got it.
Each burger comes with chips, but you get to choose whether you want slaw or baked beans. We did the logical thing and got both so we could try each of them. The baked beans were quite good, the slaw was good but less unique.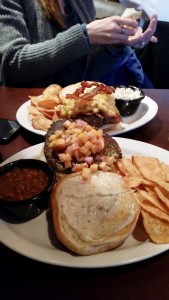 Since it was a long week and we had a Groupon, alcohol was on the agenda, and by alcohol I mean beer. SB went with an Allagash White and I tried a new beer (for me) called the Slumbrew Happy Sol.
1. Allagash White – Allagash Brewing Company
2. Slumbrew Happy Sol – Somerville Brewing Company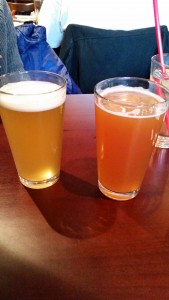 I've already had the very good Allagash White (A Maine favorite!), so I'll focus on the Slumbrew (A much more local Somerville favorite!). Slumbrew is a refreshingly tart and crisp hefeweizen brewed with local MA wildflower honey, orange peel and coriander, and fermented with the juice from over 1,000 blood oranges. It's a cloudy, yet effervescent beer, with lingering banana and citrus notes balanced against a healthy wheat backbone and hoppy finish from Mt. Hood and Crystal hops. Yes, I copy and pasted that last sentence, but it sounds so good doesn't it? Both of these were excellent beers and went together perfectly with our big ole' burgers, Murka.
After dinner we walked over to Broadway for some Friday treats and more beer. This time I celebrated just a little bit. I went with a six pack of Miller Lite, I know, hardly celebrating. But the real gem was none other than a single bottle of Dogfish Head 90 Minute IPA, yes that IPA. Broadway allows most beers to be broken up and sold as singles. Dogfish Head beers are very expensive anywhere, but out here you can expect to pay 12$+ for four 12 ounce bottles (at least for the 90 minute and 120 minute IPAs, the 60 & 75 minutes are ~12$ for 6, and then their other offerings vary quite a bit in price). So, I decided to reward myself by purchasing a single 90 Minute IPA, which as a reminder, was voted the best beer in America three years in a row (I think it was 04-06, but I'm not positive). I paid 3.50$ for one bottle of beer. Though that's still less than you'd pay for Bud Light at a bar out here. But 3.50$ is high-stakes beer for me.
If you remember, the last time I danced with Dogfish Head, I lost. To be fair I only partially lost, but this time I was stepping up even further. Whereas the Punkin Ale I had last time was 7% ABV, the 90 Minute IPA is 9%. (If you are curious the 60 Minute is 6%, the 75 Minute is 7.5%, and the 120 Minute is a holy shitting 15-20% ) [Side note, to date the highest ABV beer I've ever (and finished) had was somewhere in the 14% range – and that was a challenge].
So anyways, without further ado..
3. 90 Minute IPA – Dogfish Head Brewery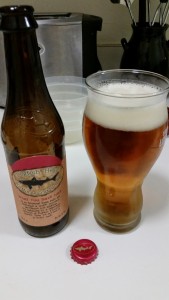 I have to say, it was amazing. Yes, despite my hesitation with the Punkin Ale, the 90 Minute IPA was completely awesome. Granted, if you don't like IPAs you probably wouldn't like this beer, but its easily the best IPA I can remember myself having. What really got me, is that it was 9% ABV, but you would never guess it was that high. It had so much flavor to it, it was actually kind of incredible how they balanced the strength of the alcohol with the strength inherent to IPAs to create something wholly drinkable. I definitely concur with the nearly perfect ratings on Beer Advocate, this is just one beer you have to try. Now, as to whether or not its really the best beer in America, who knows, that is entirely subjective (Which is why I'd never really call any beer the King of beers, sorry Budweiser). But at the very least this one is a triple-title holder. From the relatively small (in the grand scheme of things) number of beers I've had, this sticks out as one of the stronger ones. As I've mentioned before, its only within the past year or two that IPAs started to grow on me, so I think my palate still has some growing to do before I can fully appreciate this IPA, but my first encounter is an entirely positive one. This gets a solid Taco Recommendation.
Next time we meet Dogfish Head, I will challenge your true master, the 120 Minute IPA. 🙂
Having shared that, I am going to settle in for the rest of the night. I have to finish up some parts of an SPO report and do a lot of reading tomorrow. SB's spring break is this coming week, but mine is still two weeks away, so my jealously is palpable. 🙂
Until next time,
-Taco
P.S. – Look at these HUGE GRAPEFRUITS I saw at Whole Foods! They are like twice the size of regular grapefruits, and they lord over the tiny full size oranges next to them. Yes I resisted the temptation to make a boob joke.