Hello there!
Bet you didn't expect to hear from yours truly, did you? Yes, yes it's been quite some time since I last posted and there was part of me that was beginning to think Dinosaur Bear would be dormant for all of 2021. Yet here we are – alive and (mostly) well! There's been so many changes since we last met, it's hard to even think about going over them all, so I won't, at least not right now. 🙂 Rather I just wanted to wish all of my hundreds of thousands of dedicated readers – or maybe 3, not sure – a very happy Thanksgiving. Rather than bemoan some of my recent life events as I am admittedly wont to do I am instead going to share something from my life I am thankful for: Bubba Joe. Yes, you read that right "Bubba Joe."
Bubba Joe was a chicken, I guess more specifically a rooster. Due to growing up next to a rabbit and near dogs Bubba Joe was of the mind that he was, in fact, a rabbit dog and not a chicken. This resulted in some very, ehm "not-chicken" like behaviors that even my great grandmother (who had seen many a chicken in her long farm-based life) got a kick out of. Yes, if there ever was a rooster king then it was probably Bubba Joe. Bubba Joe was so lovingly stupid that he probably had no idea just how good his life was. In all my life I have had two pets which I would consider to be most meaningful to me, a dalmatian who lived so long that he was basically an eldritch being as far as dalmatians go, and then Bubba Joe. Sadly Bubba Joe passed away sooner than I would have liked, but if there was ever a rooster who was in touch with his inner T-Rex, it was Bubba Joe. A lovable idiot.
Here is a photo of Bubba Joe, taken on October 5th, 2006 – back when I had an old flip phone with a bad camera (even by 2006 standards), but he is looking big and proud, like he usually was (unless he got to far away from the house then got scared and came high-stepping back in a real hurry).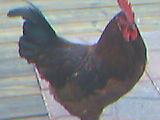 So that's just a quirky little thing I am thankful for: a rooster I had a decade and a half ago but who I still think about fairly regularly.
Until next time,
-Taco