Hello again from Denver,
[Note: I'll once again be breaking my 1500 word goal. I've found that pairing beer blurbs AND Denver stuff is just too space restrictive, maybe wherever I am next summer I will plan that out better.]
This is the 9th Denver Check-in and we've definitely gotten into the twilight period of these posts as SB is coming out in a few days (she will actually arrive the day this is posted) and next week is when I go home. So I imagine that there will be at least one more check-in and then probably some sort of summary post, but by and large we are nearing the end.
But you know what isn't nearing the end? Construction on my office building. In fact, it just seems to keep expanding. The other day I went through one of the more out of the way areas and saw that they had filled in the pit that used to house the escalator foundations.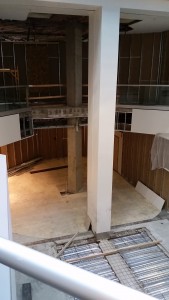 But overall, work seems to be progressing slowly and the other day they were being loud enough that I could actually hear them in the office. However, this isn't unusual. Things seem to have gained this odd "slowness" to them during my internship. For example, one of the exercise bikes in my building has supposedly been getting fixed for 10 weeks now. Mmm hmm. Oh, and one of the two elevators broke a month ago.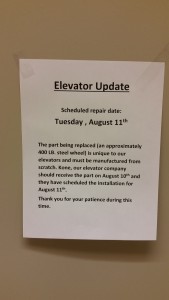 As you can see, it won't be fixed until after I leave. That whole sign reeks of "So you think your gas bill is high?" Also slow, 1L Roomate's girlfriend's ability to move out. She came to stay "for a few days" about 5 weeks ago. Yeap. Then something happened, and then something else, and most recently she was supposed to have moved out on Friday, but she's still here. Mmm hmm. Slowness abounds here, and don't even get me started on the internet.
But if there is anything that can adjust itself to either a fast or a slow pace, it's beer. As I mentioned before I picked up a sampler pack from Odell and I was very anxious to dig into it (specifically it was the Summer 2015 Montage Variety 12 Pack). Now that I've had a chance to sample the collection, here are my thoughts. All beers in this section are from Odell Brewing Company unless noted otherwise.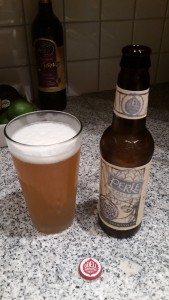 Strong wheat backbone with hop layers of grapefruit and lemon, as well as some spicy and floral notes. Lightly bitter, but in a way you like to see from a White IPA.
2. Loose Leaf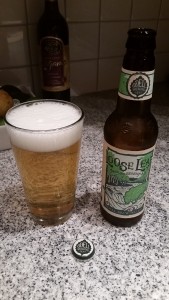 This is a great session beer. Very light, easy to drink, and really refreshing with lots of "zesty" flavor and aroma tones. Don't expect a ton of hops here, but do expect a really mellow beer that goes down easy.
3. Odell IPA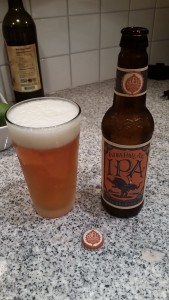 Strangely, it doesn't taste nearly as hoppy as it smells. If anything, the hops are toned down a wee bit and the fruitiness (grapefruit, passionfruit, lemon etc.) is a bit more upfront. A little bit of maltiness lurking in the background but as you'd expect this is pretty much hop-forward IPA with a fruit-backup.
4. St. Lupin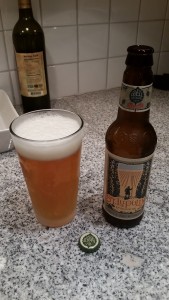 Here is a second "bonus" shot of St. Lupin. I didn't use this image above since the light isn't as good, but I really enjoyed that beer quote on the calendar in the background, so I'm throwing it in too for good measure.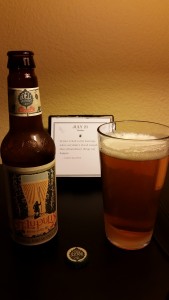 St. Lupin is delicious and well balanced. Great hop and flora characteristics without too much bitterness thanks to the dry hopping. The only caveat is that for an extra pale ale the pine elements are is a bit heavier than you might expect.
Overall, Odell definitely continues to impress me. As I've told other people out here, this is the one brewery so far I am truly going to miss.
Of course not all beers can be to the quality of Odell's offerings, not even some German self-labeled "Premium" beers. One of the biggest reasons why? No alcohol.
5. Clausthaler Premium – Binding-Brauerei AG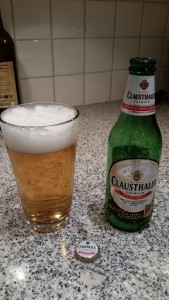 I got this "beer" for free. Someone had left a bunch of Clausthaler Premium and Beck's Non-Alcoholic in the common room in my building (wonder why). Seeing as how they were non-alcoholic I only took one of each – for science. And while the German Clausthaler Premium wasn't nearly as bad as Coors Non-Alcoholic, it wasn't great either, in fact I wouldn't even call it "good." While the flavor and malt were light as expected, that "funky" non-alcoholic taste still persisted, not sure this one deserves its "Premium" title.
That said, maybe it does, at least compared to other non-alcoholic beers. For instance, the Beck's was actually a bit worse.
6. Beck's Non-Alcoholic – Brauerei Beck & Co.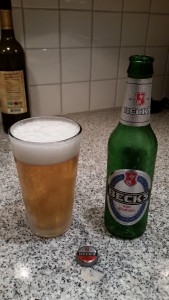 While I'm not familiar with Binding-Brauerei AG, I am familiar with Brauerei Beck & Co., so I know that they are at least capable of producing good beer (they are German after all). However, this isn't it. That weird, non-alcoholic beer flavor is very prevalent here. While the beer is smooth and drinkable, in a manor that Clausthaler Premium really wasn't, that "odd" flavor is just too potent (though not to the extent of Coors) for me to recommend this one either. Most non-alcoholic beers have the alcohol "burnt" off, which I think is what creates these weird flavors.
Anyways, I think the moral of the story here is that if the Germans can't produce good non-alcoholic beer, you probably shouldn't spend your money on any of it (and ironically I have paid for none of the non-alcoholic beers I've had so far).
So even though I enjoy drinking beer (and yes, I actually do experimenting with beers such as Clausrhaler Premium, even if the beer itself is lackluster) I enjoy doing other things as well. Since our time here has been winding down, Tristen has been getting a little impatient and always seems to want to be doing something.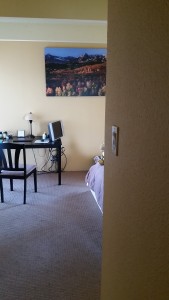 So, after a little bit of nagging (on my part) the office interns finally put together a day trip and so this past Sunday I got up way earlier than was ideal, but I was treated to a nice sunrise.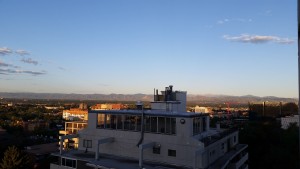 Facing west.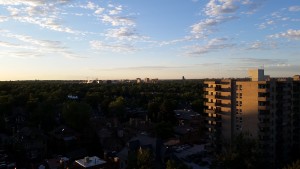 Facing east.
Then we were off to Boulder! The other interns, being local, actually have cars, so we didn't have to pay to take the express bus. It was the four of us interns and then one intern brought her boyfriend as well. Our first destination was Chautauqua, near the Flatiron Mountains. And if you are history buff like me, then yes, this is the same Chautauqua adult education movement from the late 19th and early 20th centuries.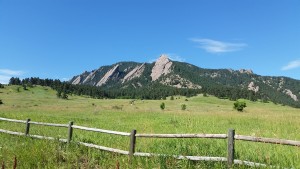 We were really lucky with the weather, it was blue skies and hot, but not too hot for hiking. This meant the area was a bit busy, but as you moved further away from the easy flat areas the people thinned out. It probably helped that we took the path less traveled as well.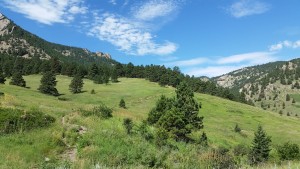 Most of the first part of the hike was deceptively up-hill. Well, it was all uphill the whole way in, but the open field portion was much more steep (and hot) than it first appeared.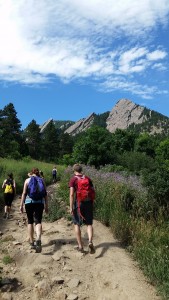 However, the lack of trees in this area did allow for some great views of Boulder in the distance.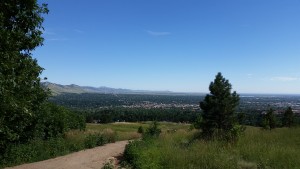 Soon enough we had made it up to where the trees started, which helped with some of the heat, even if the path got a bit more difficult.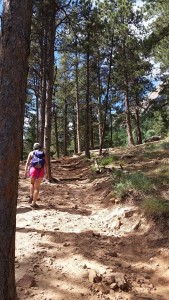 Though the trees got thicker as we moved up, there were some nice breaks that allowed for some gorgeous views.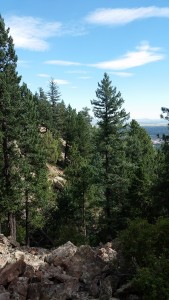 There were also quite a few rock-slides, I don't remember enough about Geology to say how old they were, but my guess is that these definitely weren't too ancient.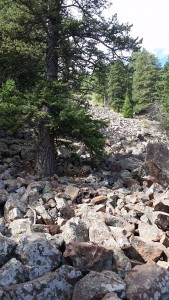 Past the rock slides the trail got even more steep and rocky, but honestly I had quite a bit of fun scrambling around the rocks, even if my legs did not.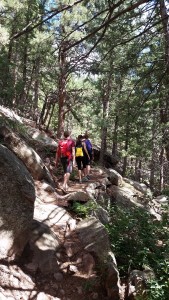 Just a bit below the top of our trail there was a vista with another good view of Boulder and the Great Plains beyond.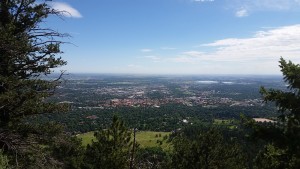 Our trail just went to one of the peaks of a smaller Flatiron, so where we were at there were still rocks towering above us.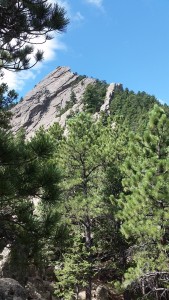 The trail ends on this little apex, where you're surrounded by fairly steep drops on three sides.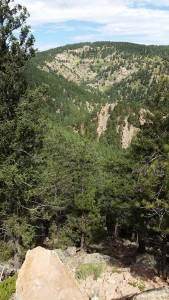 There was nice rocky outcropping on this peak, which made for a nice intern group photo area as well as providing great views of the surrounding countryside.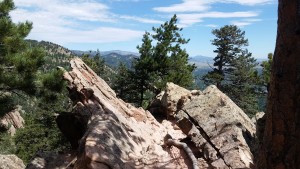 After chatting for a bit we had to head back down to make our tour time at Celestial Seasonings! I've drank Celestial Seasonings for years, ever since Meem introduced me to their "Sleepytime" variety. This Boulder-based tea company is the largest speciality tea company in the United States, though they still only have one actual production facility, which is right here in Boulder where they started in 1969. In typical me fashion, I steered us towards going here and it turned out to be a hit, especially since the tour is free! Not only can you do the factory tour for free, but you get free unlimited samples from their tasting room!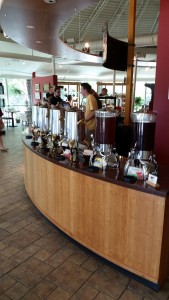 The Watermelon Lime Zinger was especially popular in our group.
In addition, you can check out the one and only Sleepytime Bear!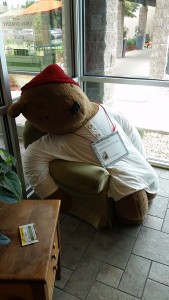 You just have to be gentle, because he's sleeping of course!
They don't actually allow photos inside the factory, namely because the machines they use don't exist anywhere else in the world. Apparently they repurposed German-made cereal machines in order to make and box the tea, it was pretty interesting. Aside from the samples, the highlight of the tour was the "Peppermint Room" where they store all their bulk mint ingredients. Let's just say it not only cleans out your sinuses, it cleans out your soul. Some people couldn't even step inside the room. I thought it was neat, but if I die of mint poisoning use this blog post as evidence.
After Celestial Seasonings we headed over to Avery Brewing Company for a tour and a late lunch. As we were driving over there, I could have sworn I heard a familiar sound. Then once we parked I heard it again. Once getting out of the car I saw them! Prairie Dogs!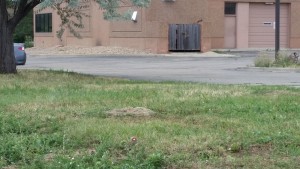 There is only one in this photo and it's hard to see, but true me it's there!
They were obviously wild and were all over the place out by the brewery. It was pretty awesome as I hadn't seen any Prairie Dog buddies since Columbian Park Zoo.
After making friends, it was time to go inside.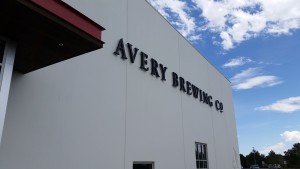 They have a very "modern" geometric building, which is actually only a couple of months old as they just changed locations.
Right inside is a big wooden throne, which like Wynkoop's Guerilla, was never explained.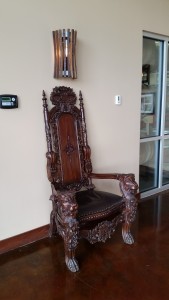 The lobby was still a bit sparse, you could tell the place was new, but their iconic "Big A" had been placed front and center.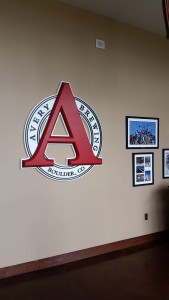 We were actually a bit early for our tour, but not early enough to sit down and eat, so a couple of us decided to grab some beers from the bar while we were waiting (plus you can take beer on the tour and are encouraged to do so).
7. WWJB Dry-Hopped Rye Pale Ale – Avery Brewing Company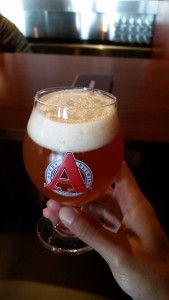 This brew, whose full name was never fully explained (My guess is "What Would Jesus Brew"), is an amazingly good rye pale ale. Granted, I've not had a rye pale ale before (just regular rye ales) but this was still good, so maybe Jesus was involved. This is a very refreshing and unique beer where the dry-hopping process doesn't detract from the other flavors.
Before I could finish my WWJB (which is saying something), the tour got started. Overall, I wasn't too impressed by the tour itself. Most of the brewery can be viewed from an elevated walk-way and a self-guided tour any time of the day. The guided tour didn't go anywhere that you couldn't go on your own, but seeing practically brand new equipment was pretty cool.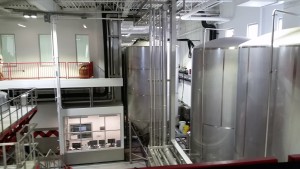 The bird's eye view of the packing area was also pretty interesting, though I would have liked to see bottles and cans rather than just kegs.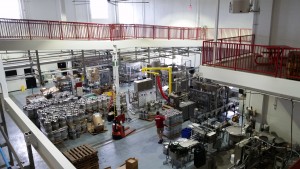 Probably the most interesting part of the tour was learning that Avery was founded by a guy who decided to drop out of law school and devote his life to beer. Interesting 🙂
The second most interesting part was the free sample, of course.
8. Avery India Pale Ale – Avery Brewing Company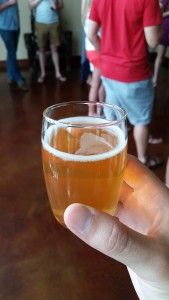 At first I was a bit concerned, because the hostess told us that they didn't always give samples on the tour. She said it just depended on the size of the group and who was giving the tour. I'm glad to say that we did get a sample (despite being a large group) so I don't know if she was just playing with us, or if it really does depend. That said, don't ever give a brewery tour without giving out beer, I mean freaking seriously.
Anyways, this is their standard issue IPA, and as a standard issue IPA it was, well, fairly standard. This course doesn't mean it was bad. The fruit palate emphasizes citrus with pine and herbal hops over light grain. Medium body and carbonation. Very drinkable and refreshing, even if not especially memorable as an IPA.
After the tour we were seated within about 5 minutes (thanks to putting our name on the list before the tour – there were now 6 of us as one intern's friend had joined us at the brewery). With lunch I went straight for a beer I heard mentioned on the tour:
9. Perzik Saison – Avery Brewing Company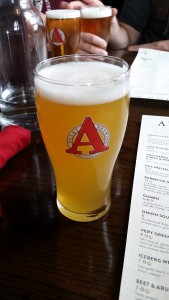 So I'm not going to lie, I had to look up what "Perzik" meant. Turns out it is Dutch for "peach," which makes all sorts of sense as this was a peach saison. My guess was that it meant peach, but I wanted to look it up for make sure. When I first ordered this I was just sure it was going to be my favorite Avery brew of the day, but it actually wasn't. While it was better than their IPA, I still have to go with WWJB as the best of their beers I've had so far. The Perziki looks really good, has lots of flavor, and has a great mouthfeel but I was expecting some more peach aromas and flavors and sadly they were a bit faint. Still a good fruit saison though.
One other nice thing about Avery, aside from their beer, is that their dining room actually has some really good food, in a non-prewbub kind of way. I was actually reminded a bit of Upland, though Avery is a bit more eclectic. I went with the "Sloppy Seitan" which is barbeque seitan and pickled vegetables on a sesame bun (I have to give Bloomingfoods credit for my love of BBQ seitan). For my side I went with seared greens.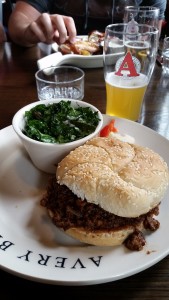 The food was just as impressive as the beer, so really overall it was just the tour that was a bit lacking.
[Side note: Since there was a group of us I was also able to taste the following Avery beers: The Reverend and their Raspberry Sour, both of which were good (though the Reverend was very strong and the sour very sour) but I don't include them as a blurb since I only had one drink of each of them, which isn't really enough to form an opinion]
After that we all headed home as it was a Sunday and everyone was a bit tired from our early hike. Once I got back home I got a little work done then settled in to watch a movie, only to have my internet instantaneously die and not come back. Ah home sweet home. While sitting there doing nothing I realized that I had, yet again, spent an entire day being social. Weird.
On Monday a lot of the flowers in the garden next to the bus stop had bloomed though, so that was a nice start to a sunny day. Then on Tuesday my boss took us out for crepes (granted it was during a very long day over at the US Attorney's Office, but still, crepes) which was awesome.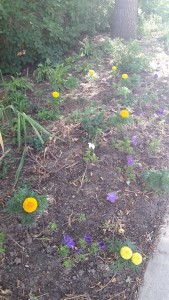 Until next time,
-Taco