He lie awake staring at the ceiling. With a bit more effort than was desirable he shifts to his side. The clock reads 2:17 AM. He lets out an audible sigh. The situation would be frustrating if it wasn't so routine. Upon reflection he wasn't sure of the last time he'd actually slept through the night. Every night, as if on key, he would be roused from his slumber at precisely 2:00 AM. Within imperceptible moments of time from this awakening he would already be thinking of it. This cycle had persisted for an unknown number of nights; spread across.. was it weeks, months, years? He wasn't sure, in truth he wasn't even consciously aware of a time where it didn't hound him. When it beckoned he felt as though he had to answer. But in reality he didn't, did he? No, of course not, it was just a thing after all. Yet as time marched on and night after night he found himself being drawn to it he couldn't help but wonder if maybe there was more to it than he cared to realize.
So, he had resigned himself to at least an hour of sleeplessness each night. From his moment of awareness at 2:00 AM until his heavy eyes closed once more at exactly 3:00 AM, this was an hour of his night that was simply and irrevocably lost to him. Whatever it was that drew him to it seemed encapsulated within that specific hour, to the point that even when they were to be seasonally changed, the hour of the clocks stayed the same for his disturbance. This is not to say that he hadn't tried to resist the pull and entrancement of it. Quite the contrary in fact, on many a night he had lost the battle to remain in bed and had traversed the dark house to gaze in awe at it. For a time this had assuaged his eccentrics, but such moments of satisfaction were brief and fleeting. It was a fickle thing when it came to obedience. There was always more to be offered, always more.
One night of indeterminable length ago, as he stared into the glow of it he felt the desire, the impulse, the craving, for the first time. On the first occasion of this elevated desire he was shocked and promptly took himself back bed, where, as he would have predicted, he drifted back into the realm of Hypnos and Morpheus at 3:00 AM on the dot. That was a long time ago though, or at least it seemed like it was. Perhaps it had only been the night before. He was no longer sure. But now, this night, as he lay in bed the initial horror of what it had requested was now replaced with a strangely intense desire to give it precisely what it wanted. He fights against this urge. There was nothing logical about even considering the proposition. The clock now reads 2:29 AM. In one minute the pull from it would reach its penultimate apex. He closes his eyes and tries to breathe deeply. One eye peeks toward the glow of the clock. Still 2:29 AM. He involuntarily holds his breath for a moment, the air tense in his lungs.
The digital numerals shift their form. 2:30 AM. "Maybe just a look" comes to his train of thought no sooner than the transitory light of the clock reaches his visual cortex. As if in a race against his better judgment he springs from bed and takes off through the house. Outside the night is dark and silent. The frigid winter air nips at his bare feet on the cold floor but he scarcely registers this. He deftly swings open the old wooden door, the resulting whine from the hinges utters at its lowest possible octave given his storied history with opening the door as silently as possible so as not to disturb it. The threshold beyond is even darker than the moonlit night. No windows here. He considers turning on the overhead light, but that seems like it would cheapen the verisimilitude of his pilgrimage. No, darkness was good. All the better to enjoy it. He creeps across the room in search of the control. After some fumbling that only increases his impatience, he finds the single small switch and flips it. There is an audible click, a slight whine, and then – before he can see it – he feels it.
A smile involuntarily spreads across his face. "Yes, this is good" he murmurs aloud. Soon it has emerged in a full display of raw power. It glows orange at first, then, as the energy which it fully controls more wholly envelopes it, a crimson red. There is some occasional clanking of metal within it, but otherwise all is silent. "A little closer, perhaps, just for this one night" comes next into mind. "But how?" quickly follows. As if on queue his bare foot slides gently on the tile floor and brushes against something cool and metallic. He turns to look. In the glow offered by it he sees a discarded tool. "Why is this screwdriver here" he thinks to himself in a brief moment of lucidity. "No matter" is the reply from another region of his brain in a voice not quite at home there. At some point he may have brought the instrument with him, was it tonight, last night, a hundred nights ago? He wasn't sure. He has work to do. He raises the tool and begins to remove the face of it. In a nearby room, unseen to him, a clock shifts its own visage to reflect the time. 2:57 AM.
The face is free. He gently sits it on the floor with the care of a well skilled surgeon. Now it is unabashed. It has so much to offer him, so much warmth and power in that glow of all glows. 2:58 AM. He marvels at it. His tithing face moves slowly closer to the red offerings of his god. His hair begins to curl and recoil. He does not notice this. He is too jubilant in his devotion. 2:59 AM. "Just a few moments longer" he convinces himself. His flesh begins to sizzle. "Yes, just a few moments more." The surfaces of his eyes boil and hiss. "Such a good night this is" he thinks to himself as his lips crack and retreat backward with the calcifying skin. He can no longer see, nor smell, nor even feel it, but he knows that it is still there, he senses its presence on a deeper level. "Oh yes, what a night indeed." Though he does not feel the sensation in a physical sense, it burns into his very bones, all soft tissue which once embodied his face now having been offered up to it.
But what's this? Some part of his brain, the deeper, more primal part which resists the notions of spirits and gods in favor of more basal survival cries out: "This is wrong! This hurts! Stop!" And so, he tries to do just that, stop. But he cannot. He is now part of it. The dark silence of the home is shattered by his guttural scream. He does not find the peace he sought, only iniquity. There is nothing more he can offer and it is appeased. For now.
The clock notes its time to a now lifeless house. 3:00 AM.
The coils go dark.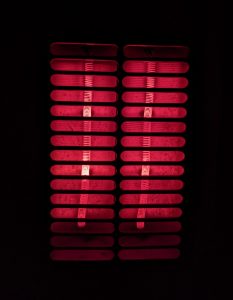 ~~~~~
I hope you enjoyed this short story. It's a bit different in tone and prose than my last one here on the blog (An Old House) though both are dark, just in different ways. This whole shebang takes some inspiration from the infamous garbage disposal scene in Stephen King's Firestarter, but the concept for Coils actually predates my associating the idea for this story with King's. So it's more of a spiritual cohort than a derived successor, at least in my own opinion. Much like An Old House before it, the framework of this story came into my head late one sleepless night. Perhaps around 3:00 AM?
Until next time,
-Taco